Weight-loss During the Holidays - Halloween Edition
Weight loss is hard enough, but doing it during the holidays? Are you setting yourself up for FAILURE? Let's seriously consider this for a moment. We're about to be surrounded by sugar for the next 4 months. Halloween, Thanksgiving (Left over thanksgiving), Christmas (Left over Christmas), & New Years and let's not forget Valentine's Day. Wholly Guacamole! Each month I will feature a new blog post on surviving the binge eating madness with tips of survival & keeping your focus. This month - HALLOWEEN.
This is my first Halloween during my transformation, so I take it as a CHALLENGE. The 31st was my excuse to introduce TAXES to my 3 children and let mom pick 5 (maybe more) goodies from their baskets (I mean, I walked them around. That's exercise right?). It also taught them Sharing is Caring (our brains make up creative ways to get what we want). Really, what I was doing is looking for my sugar fix and overloading my system with immense amounts crap so that I would call my best friend in a sugar frenzy asking her why. WHY DO I DO THESE THINGS TO MYSELF???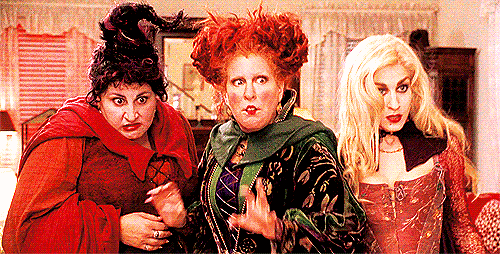 Halloween is a time to watch Hocus Pocus with yourself or with your children. It's time for them to express who they aspire to be or who they want to become OR who you fantasize of being like a magical unicorn or a elvish princess.
In order to make it through this month without losing sight of your goals, here are a few tips of survival:
JUST SAY NO. Do Not - I repeat: DO NOT buy Halloween candy until the last week (maybe even the day before) of the 31st. Keeping it laying around the house is dangerous especially when your just getting started on your weight loss journey.

PREPARING IS SHARING. Start planning fun & healthy snacks and having it ready the day of. Check out WGTS Pinterest Board. This will help the impulse grab of candy or junk food that just magically appears in your hands.

DANGER ZONE. So- you now have mass amounts of left over candy & the hoard your children collected. You are in the danger zone. Not really. Make the conscious decision that your home is a healthy environment & your family is a participant (knowingly or not) in this transformation. Allow you children an allotted amount and seriously chunk the rest or donate it to http://www.halloweencandybuyback.com/ Or another local candy collection charity. What a great opportunity to teach your kids & yourself about the gift of giving back.

TRICK OR TREAT. Give yourself A (singular) treat. My favorite treat is a honey crisp apple with peanut butter sprinkled with Lily's Dark Chocolate Chips, sweetened with stevia. Whatever it is, be sure the sugar is natural based (as in fruit - berries are the best for lowest sugar content), and that any other component is low in sugar too (peanut butter = or < 3g, chocolate is 0g).

HAVE FUN. Lastly, get out there & join in the festivities. Go for that long walk house to house, engage your muscles by tightening your thighs and butt-ox & abdominals while waiting for your children. It's like kegels no one will know your doing it. (Added note - refrain from googling keegals to find the accurate spelling for kegels - some disturbing products come up that I just..... just don't.) OR even go dressed as Jane Fonda or Richard Simmons and carry dumb-bells around (I'm a genius).
The moral of the story is that you CAN make it through the holiday's as long as you are PREPARED. Anticipate the potential danger zones and create IF-THEN scenarios. Example - If my hand accidentally manages to open a fun-size snickers bar and unbeknownst to me shove it in my mouth, THEN I will drop and do 50 burpees (Eww). JUST KIDDING. Seriously though, create accountability for yourself. IF you don't prep for this sugar laden day THEN the likelihood for failure is high. Be gentle with yourself, but don't put up with your bull-crap, because we all know excuses will come creatively & often when we enter the holidays.
If you need major accountability during these next 4 months, join us on Saturday, October 27th at the Buda Lion's Club OR on Facebook Live from 2pm - 4pm. You can find out more about The Cycle of Weight-loss & Why we Fail at www.WomensGuidetosanity.com/weight-loss-coaching
When you register, you will gain access to the WGTS Weight loss Group where you will have the opportunity to be surrounded by women who are trying to accomplish the same thing as you, as well as have access to me throughout your journey.